Good news! Alex Krebs & co. have moved some their albums to Bandcamp! Previously, they have hosted their music with CDBaby, but those guys have recently closed down their shop. If this move was triggered by that, then it is a positive collateral... improvement, I would say. Bandcamp is where the action is nowadays.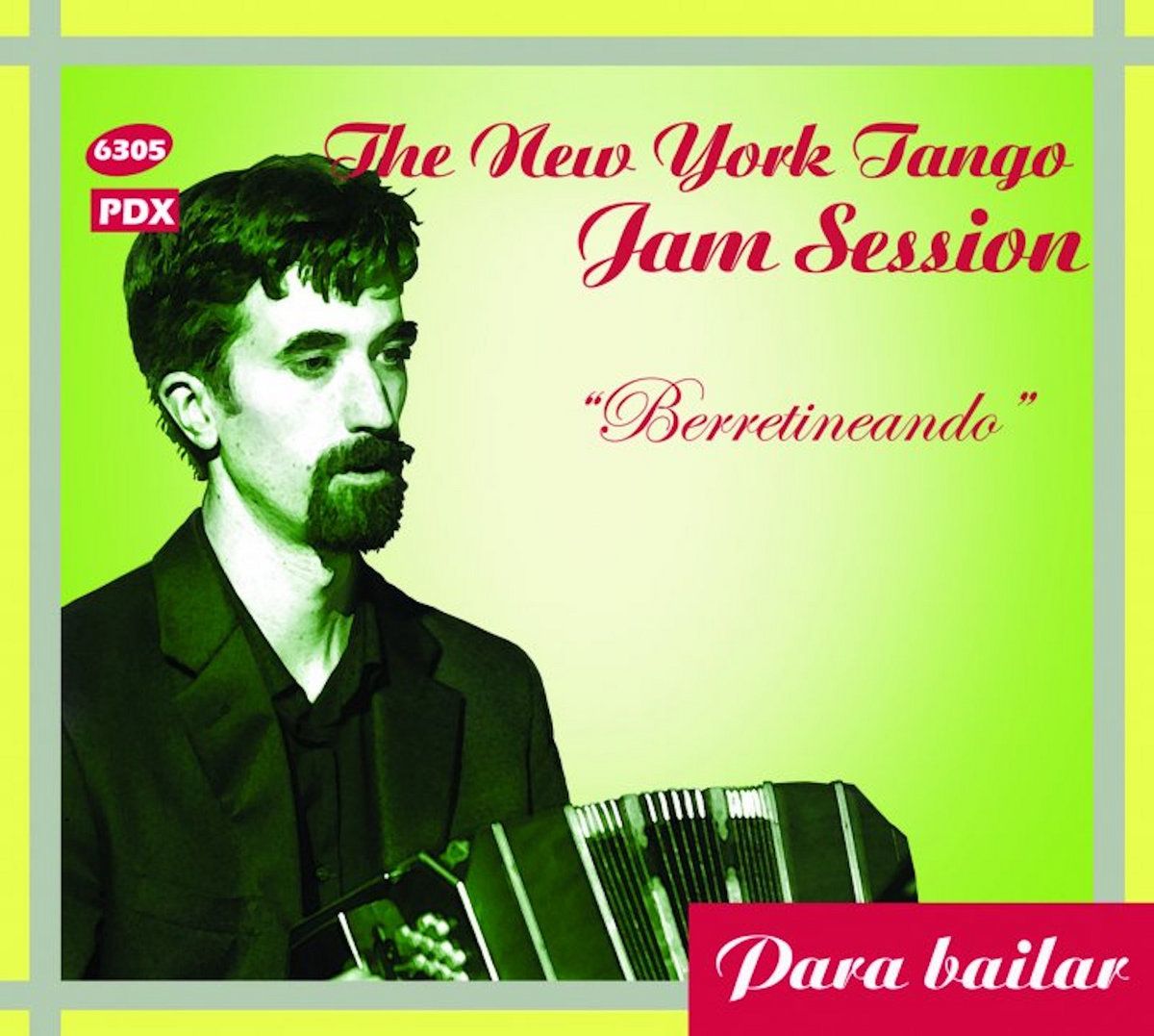 The album "New York Tango Session - Berretineando" is not a new release - it was recorded in April 2009. The Bandcamp release has given me a good excuse to put out a review of this highly danceable music by a band that I don't know whether it's still active - hopefully yes. Alex Krebs makes frequent appearances in my sets and you will soon know why.
Included on this album are ten tracks, a good mix of classics with tunes that are not as frequently recorded by contemporary ensembles. All except two are instrumentals.
In summary
If I were to distill the gist of the covers recorded here and also on Stumptandas, I'd come up with something like this: unassuming, folksy yet technically very precise tangos intended for consumption on the dance floor.
The instrumentation is conservative, with a quartet of bandoneon, violin, piano and double bass. The earlier grouping around Alex Krebs, Conjunto Berretin, also had a harmonica, which I found hilarious and sometimes missing here: it adds to the overall "pub character" of the music.
The music in detail
Sorbos amargos, an unusual choice for an opener, gets rid of the overwrought lyricism of Demare's canonical version in favor of a much simpler, swift elaboration of the melody.
It is even more so in their treatment of Hay que vivirla, compadre, vis-a-vis D'Agostino's take (the only one in the pre-modern era). You may not even recognize the tune at first.
But why make a cover if all you want to do is to re-create the original recording? If the melody still makes sense in the new arrangement, with the different tempos and accents, it takes on a new life and can be put to different uses compared to the original.
The violin takes us through the opening of El viejo amor, another tune that only one orchestra recorded previously, José Basso with Floreal Ruiz in 1961. This short rendition strips the piece of Basso's cinematic pathos and delivers a simple, melodic, likeable tango in a comfortable walking tempo. The interplay of instruments, each taking part of elaborating the melody, is very pleasing.
The violin has a prominent place in Alex Krebs' arrangements. Indeed, it has a lot of ground to cover in the absence of a singer, as in Bailemos. Beloved by many as captured on the 1955 recording by Di Sarli with Pomar, the tune takes on a new form here, flourishing even in a more chamber-music setting.
Let me interject briefly and ramble about violins. They are often the weakest link in the Argentinian orchestras, both past and present. The joke that a violinist spends half his time tuning his instrument and the other half playing out of tunes applies unfortunately way too often.
The opposite is true here. Nick Danielson's violin is masterful and expressive without being showy, clean and convincing. And considering that by Alex Krebs' account, the two have met for the first time on the day of the recording in April, 2009, I have to tip my hat with double the vigor: well done indeed!
Moving on to Duelo criollo, I've selected the unforgettable rendition of Di Sarli with Durán from 1946 as a point of reference. Alex Krebs' version shares with it the sharp accents throughout and is only faster by a couple BPMs. With the singer absent, the violin again fills the gap, with the bandoneón assisting notably.
The cover of Suerte loca is close in spirit to the Enrique Rodríguez / Armando Moreno recording from 1941. Here, too, we have sharp, lively staccatos, carrying and underpinning the smooth melody. It is one of only two tracks where the singer, Hector "El Pulpo" Peyreyra, joins the band. I wish there were more to form a tanda.
Ventarrón is a powerful tune that lacks a convincing Golden Age interpretation. I won't glibly discard the recordings of Canaro and OTV 1933 but they are too ancient-sounding for my taste. Among the moderns, Orquesta Tipica Imperial covered it in 2003 and I am doubtful whether it was even intended for dancing.
With competition lacking, Alex Krebs & co. have delivered a fresh, modern interpretation that has what it takes to become a yardstick: a lively tempo, smooth singing, and an undisuptably dancing character. Bravo!
A similar story can be told about La última curda, with the exception that its origin do not date to the pre-historic 1930s but rather to the hyper-emotional late 1950s and 1960s. I will offer the version of Gobbi / Landó from 1957 without meaning to place it on a pedestal; you will find the interpretations of Troilo or Goyeneche equally heavy and melodramatic. Here, it is moving forward and its lyricism does not obstruct but encourages rewarding footwork on the dance floor. Where the singer would dwell and meditate, the violin makes a brief statement and moves on.
Triste destino is another gem that was largely ignored in the pre-modern era, with only De Angelis and Gobbi giving it a try in the 1950s. What I wrote about *La última curda *applies  here as well. Their take is lyrical, somewhat less driven, more meditative while no sacrifices to the danceability are made. I was especially moved by its forceful climax.
Last comes the Cumparsita, which, according to Alex Krebs, was recorded in a single take, without sheet music and with only a brief instruction to "play it minimal and a little dissonant". It is a delightful, always improvising elaboration on the immortal classic, at its length of 4.40' destined to surprise and also delight the dancers when played to close a milonga.
P.S.
I have wanted to write about Alex Krebs' tango projects in the past, and never had a good excuse until now. It feel a bit odd to write about releases made 10 or more years ago. Fortunately, the Bandcamp re-release gave me a good excuse, and here you have it.
In writing about tango contemporaries, I feel compelled to make occasional reflections against the classics, the pre-moderns, who still dominate the social tango scene. Here I went all the way, selecting a point of reference for all but the last track. But rest assured that you can enjoy listening to and dancing to every single track on this album without giving the slightest regard to the classics I've listed. The music stands on its own merits.
If you like what you've heard, please consider buying this album on Bandcamp, as I did. Perhaps if there's enough of us could this band make a new appearance in the 2020s with new material. There aren't that many from whom I'd eagerly buy anything they release, and Alex Krebs' tango quartet  (and sextet) certainly is one of them.
What do you think? Sound off in the comments!
Read some more