Bewitched
What Bewitched Is
Do you DJ at social dancing events, like tango or salsa?
I wrote an app that I originally called Embrace and have now re-christened Bewitched, to be my companion when I DJ at tango milongas.
People noticed, and I have given out copies to fellow DJs and have even set up a website for it. Now it is ready for a wider audience.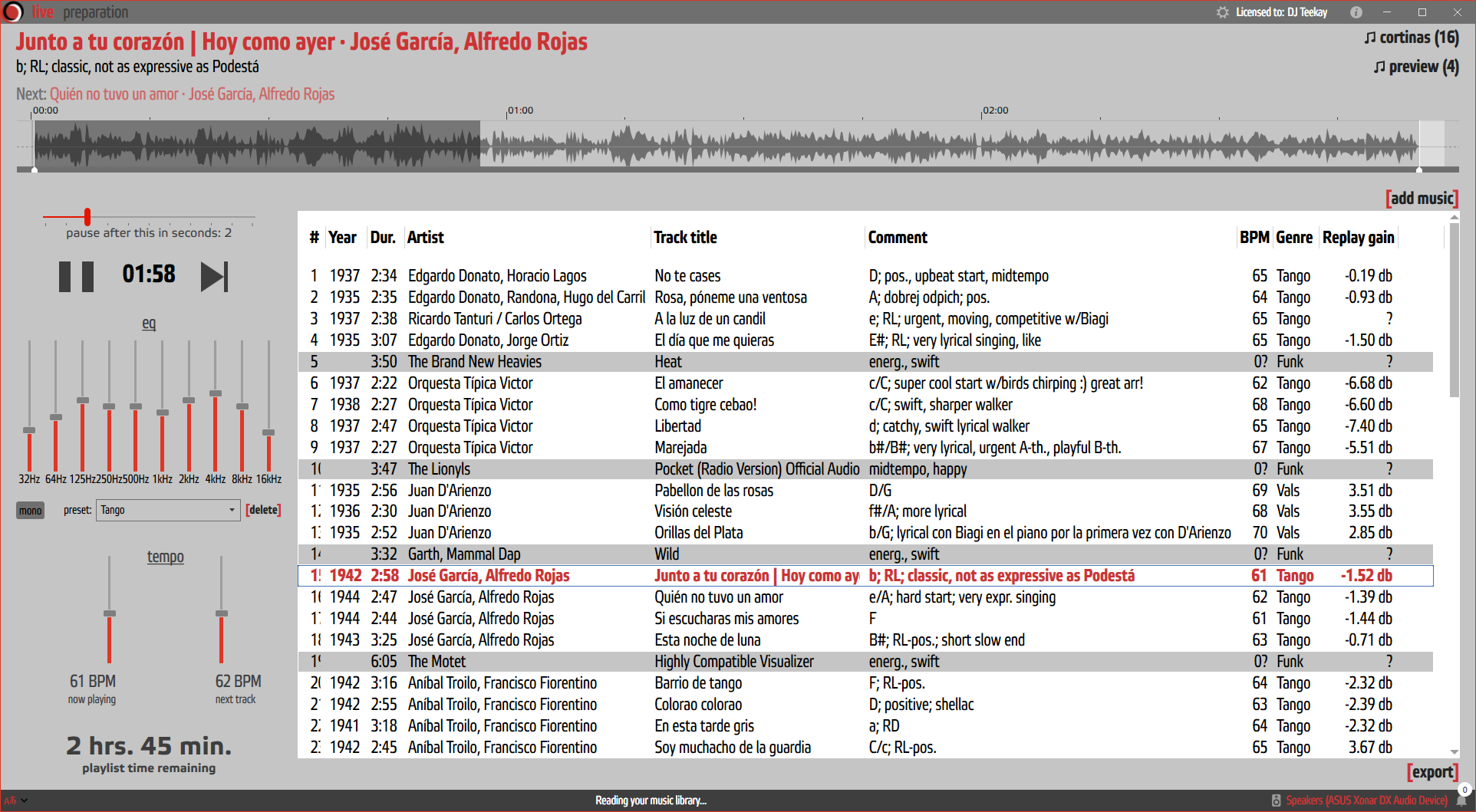 What could it possibly do for you?
Bewitched was created with the social dancing DJ in mind. It cares for things you certainly find important:
Supports all DJ styles: Bewitched is built around playlists, but it is up to you how you use them. You improvise one song at a time, or throw in a bunch of songs while you talk to that nice lady who came to say hello.
Continuous, evenly spaced playback: Bewitched will trim leading and trailing silence and optionally wait between songs for a few seconds, if you want. No more nervousness in the crowd wondering when the next song is going to start.
Consistent volume: Bewitched reads the ReplayGain tags and adjusts the volume such that no song will be too loud or barely audible.
Usable in dim light and other common club conditions: Bewitched uses spacious, legible design language that works well at social dancing events where lights are often dimmed. The text is big enough for your tired eyes, and even when you've had a couple glasses of wine, you'll still click the right button.
Speaking of buttons: Bewitched tries hard to prevent random mistakes. There's no stop button to accidentally freeze the dance floor. And, if you have a backup sound card, it will use it when the primary one fails so that the music never stops.
The original version was primarily a playback tool. Version 2.0 adds a plethora of features for searching and organizing your playlists, so that you don't need your iTunes to look up tracks while DJing.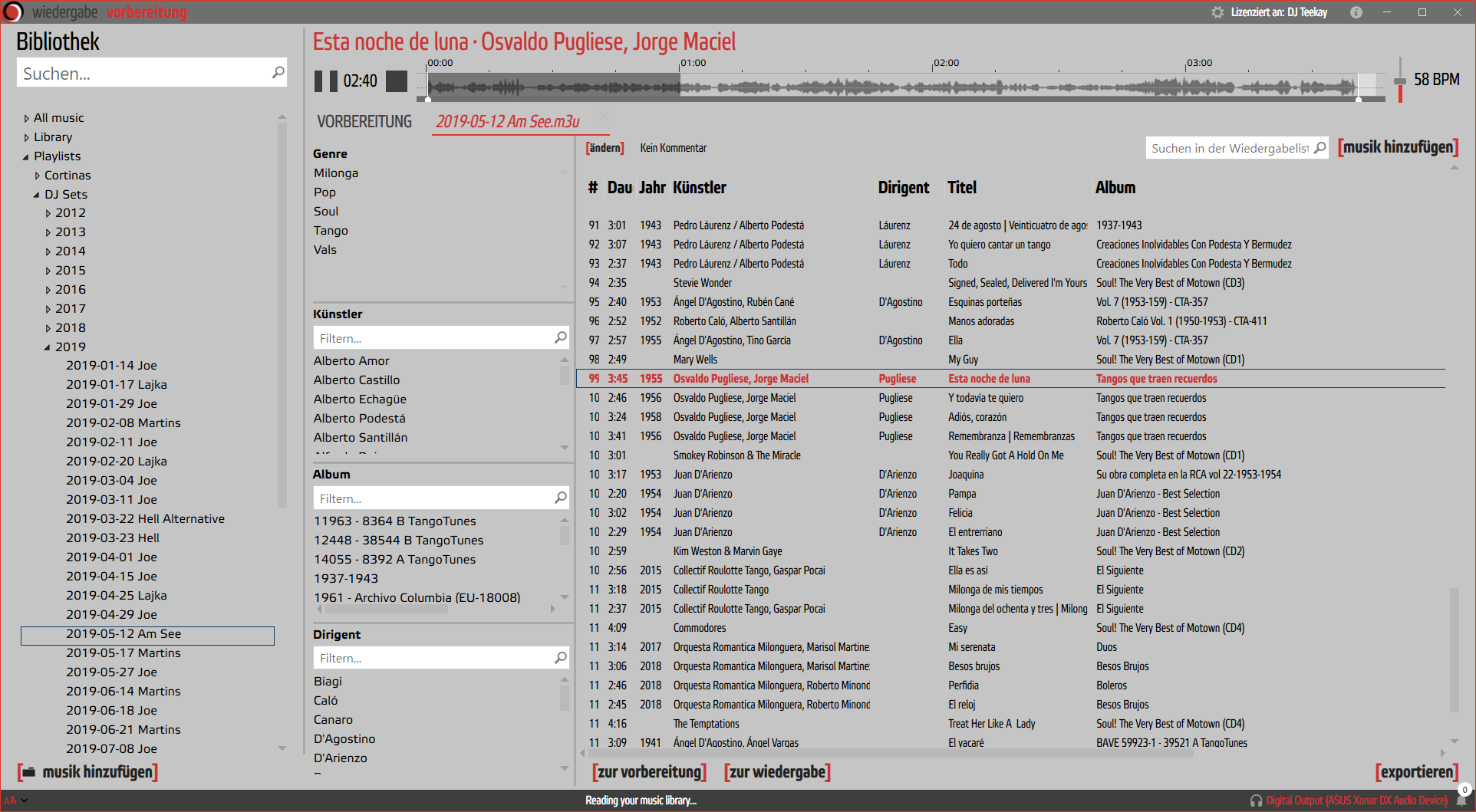 Available in Czech, English, German, and Spanish.
What Bewitched is not
This is an app for social dancing DJs, not for mixing EDM, hip-hop, etc. It is not intended to replace iTunes or MusicBee in their roles of organizing your music library itself. Bewitched only supports a limited set of metadata that is useful for DJing at social dancing events.
Bewitched will not mess with your music library. There is no auto-organizing or other shenanigans.
Yeah, and it's only for Windows computers, sorry 😎
Download Bewitched
Click here to download the setup file. It is digitally signed and you should see my name in the digital signature when inspecting the download. That tells you the program comes from me.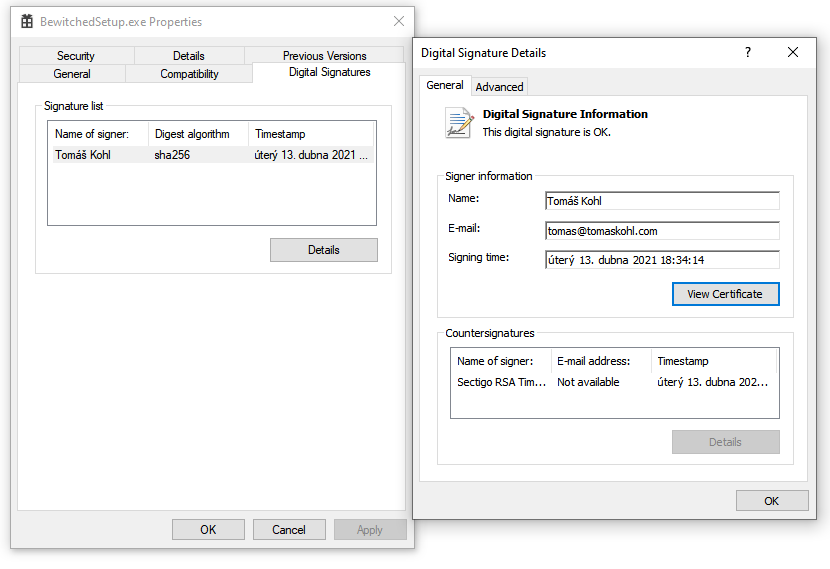 Please note that your browser might block the download. That's because too many jerks have polluted the Internet with viruses and malware and browsers don't trust me until many of you download the app. You have my word that there is nothing malicious in Bewitched. I have everything to lose, so I do make sure this is the case.
When running the installer, you might see Windows SmartScreen intervene. That's because I don't have enough creds with Microsoft yet. Again, jerks ruining the Internet with junk. Eventually, I will build the reputation and new customers won't see this.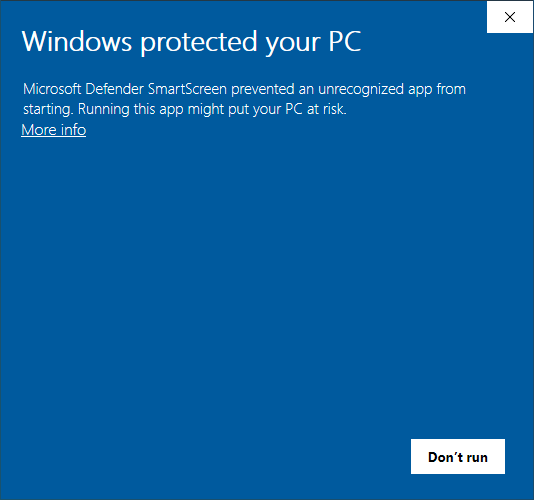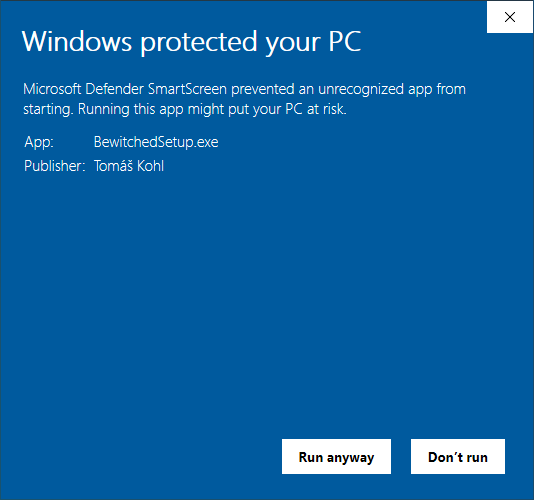 Click "More info" on the first screen to get to the second. If you see my name as Publisher, it's legit. Click "Run anyway" to install Bewitched.
There's no setup wizard, the app just installs and runs. Bewitched does not automatically update itself because I think that's rude. Click the "About" icon in the top bar to look for updates and install them at your convenience (or never).
You can uninstall Bewitched anytime from the Control Panel.
Bookmark this page to know when a new version comes out with bug fixes and new features.
Availability and price
I distribute Bewitched using the decades-old "shareware" model. You can download the app for free and use it for 30 days. If you find yourself using it after that, please purchase a license.
The license costs 59,- EUR + VAT 21% if you live in the EU and is valid indefinitely for the version 2 including all feature and security updates. When Version 3 is released, there may be an additional upgrade fee.
If you are here to purchase your license, please use this link to complete it. After that, you should receive your license by e-mail. In case you don't, reach out and I will send the license to you promptly.
Questions? Drop me an email and I'll get back to you pronto.
---
Legal stuff, if you must.