Collectif Roulotte Tango published their new album, Reír, just as the Corona lockdowns were put in effect across Europe. It took me a while to get my hands on it. The postal service hasn't been very reliable even before this mess, let alone now.
The waiting was worth it.
The album comes in a paper sleeve but don't let that fool you:  its production  quality is superb.
It features 11 covers of various tango classics as well as 5 originals by Gaspar Pocai, the bandleader. A note on the back of the sleeve suggests the repertoire comes from a tour Roulotte did in 2019.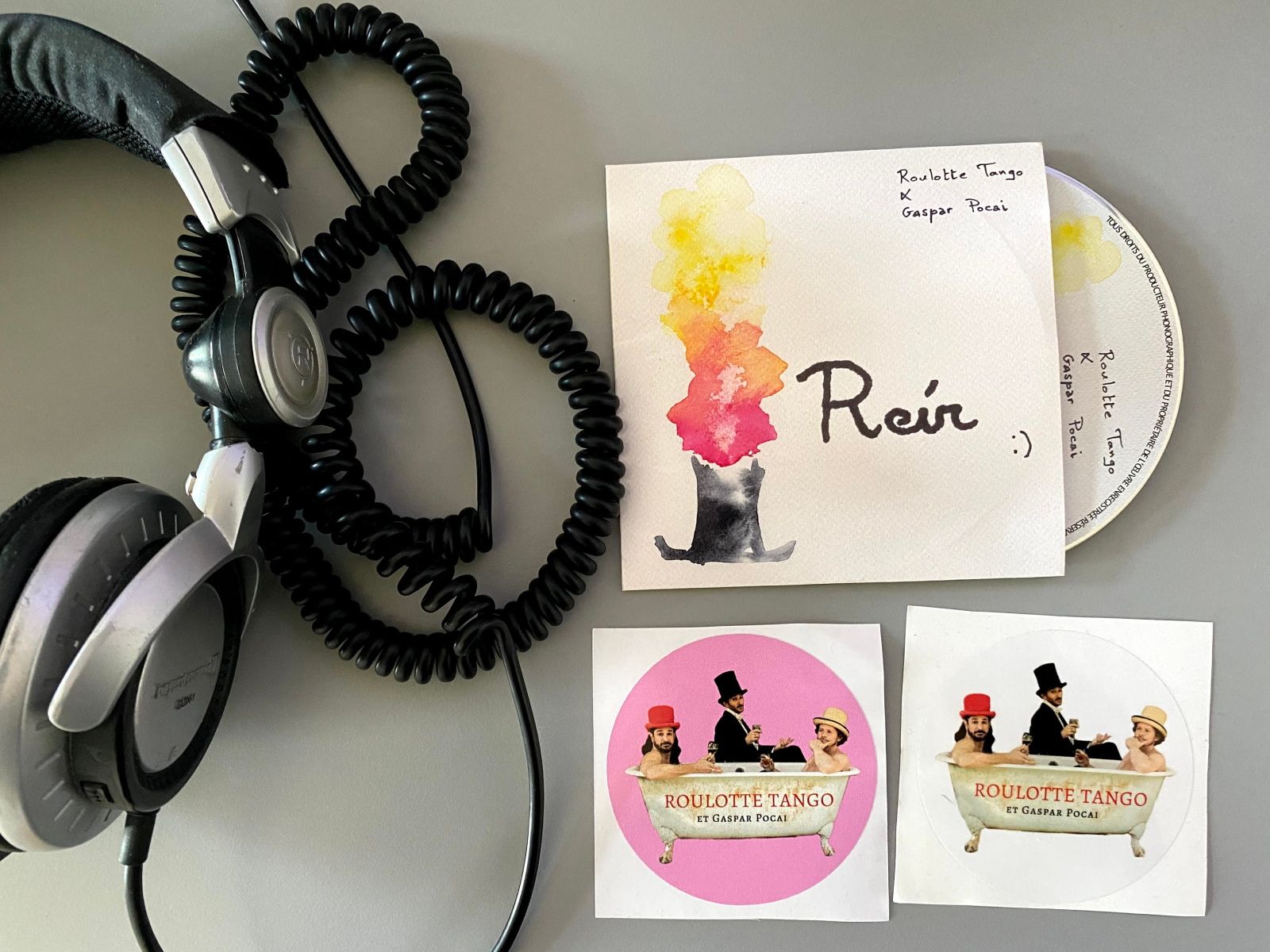 My take
Roulotte is one of my Top-5 living tango bands, and it's interesting to see their evolution. This albums sounds like the core member of the "bigger" Roulotte took a vacation, went somewhere sunny, drank a lot of wine and played at small-town milongas.
They stripped tango of all the pathos it has accumulated over the decades and put it back where it came from: in a bar full of shady but mostly harmless characters.
The underscore this point, consider major stylistic choices other orchestras make (non-exhaustive):
Clean and faithful - typified by German ensembles such as Sexteto Cristal or Quinteto Ángel, this style respects the original arrangements and brings them to the 21th century
Romantic and over-the-top: the guys from Romantica Milonguera and its spin-offs go all the way to eleven, grabbing on and chewing each phrase until no juice is left
Avantgarde - best represented by O.T. Andariega, with their unique, modern arrangements and sometimes very alien renderings of tango classics
All of them sound like they take the job quite seriously: it is often fun but you can imagine them playing on a stage of a concert hall and they would fit in there.
Roulotte, not so much, not on this album.
Consider Esta noche me emborracho.
The lyrics are about a man getting drunk so as to not hurt himself thinking too much about a particular lady. Gaspar Pocai delivers that story believably and with poignancy, and yet the whole setup is a circus. You don't have to watch the video and appreciate his red top hat to feel like you're being taken up for a night of binge drinking, playing cards, and reminiscing.
Or, Yo no sé por qué te quiero.
Ostensibly about another man going crazy about the object of his affection, Gaspar Pocai does not permit any high-minded emotional journey on the part of the listener. Indeed, as he pretends to cry and mocks the whole affair, pathos is replaced by drunken horseplay.
The music
This is a smaller Roulotte, with up to 5 players (bandoneón, piano, 2x violin, guitar). Some songs are only rendered by Pocai and Blondel, though you'll hardly notice. The soundscape is varied, rich, and spatially compressed. It's chamber music.
The songs are driven by Pocai, all of them vocal pieces. You'll often hear the other musicians joining him in a chorus. It's a trademark of this album, one that is present in most pieces.
Another are rubatos. Pocai is in the lead here, and he'll occasionally bring the song to a halt to end a phrase. I was wondering if that brings his tangos closer to the canción genre but that's probably a step too far. The music is always danceable, with only the opening Reír being debatable in this regard.
There are two valses (El vals soñador, Bajo un cielo de estrellas), two milongas (Berretines de libertad, Y que querés), the rest are tangos.
The milongas are Gaspar Pocai's originals and they are lovely, especially the former. The tempos are mild and the dancers will have time to to enjoy the details for their bipedal interpretation of the tune.
Among the tango covers, La vi llegar delivers the most polished, noble experience, somewhat remiscent of Caló.
The rest is equally lovely and more in character, tendered with alcohol and very playful. You'll enjoy Barrio de tango, Paciencia, or the totally pathos-free El adiós. It couldn't be further removed from the over-extended versions of Pugliese or Vargas.
Among Gaspar Pocai's tango originals, I want to emphasise Si te da lo mismo. Swift, accented walker with a rhythmical charge that keeps going off constantly to keep you engaged on the dance floor.
There are no weak moments on this album. The selection is remarkably even and has obvious tanda candidates. On that note, however, I should add that I would not mix songs from this album with songs of the "bigger" Roulotte. This is indeed a separate, distinct product. The big Roulotte is a full-fledged, serious orchestra; this is a drunk chamber music session.
I don't know when I'm going to return to my DJing. When I do, I'll surely bring this album with me. It's a gem.
What do you think? Sound off in the comments!
Read some more