Back in 2013, I started writing a Windows app to help me while DJing. I called it Embrace then, and after a prolonged pause, I am bringing it back, having renamed it as Bewitched (see footnote #1).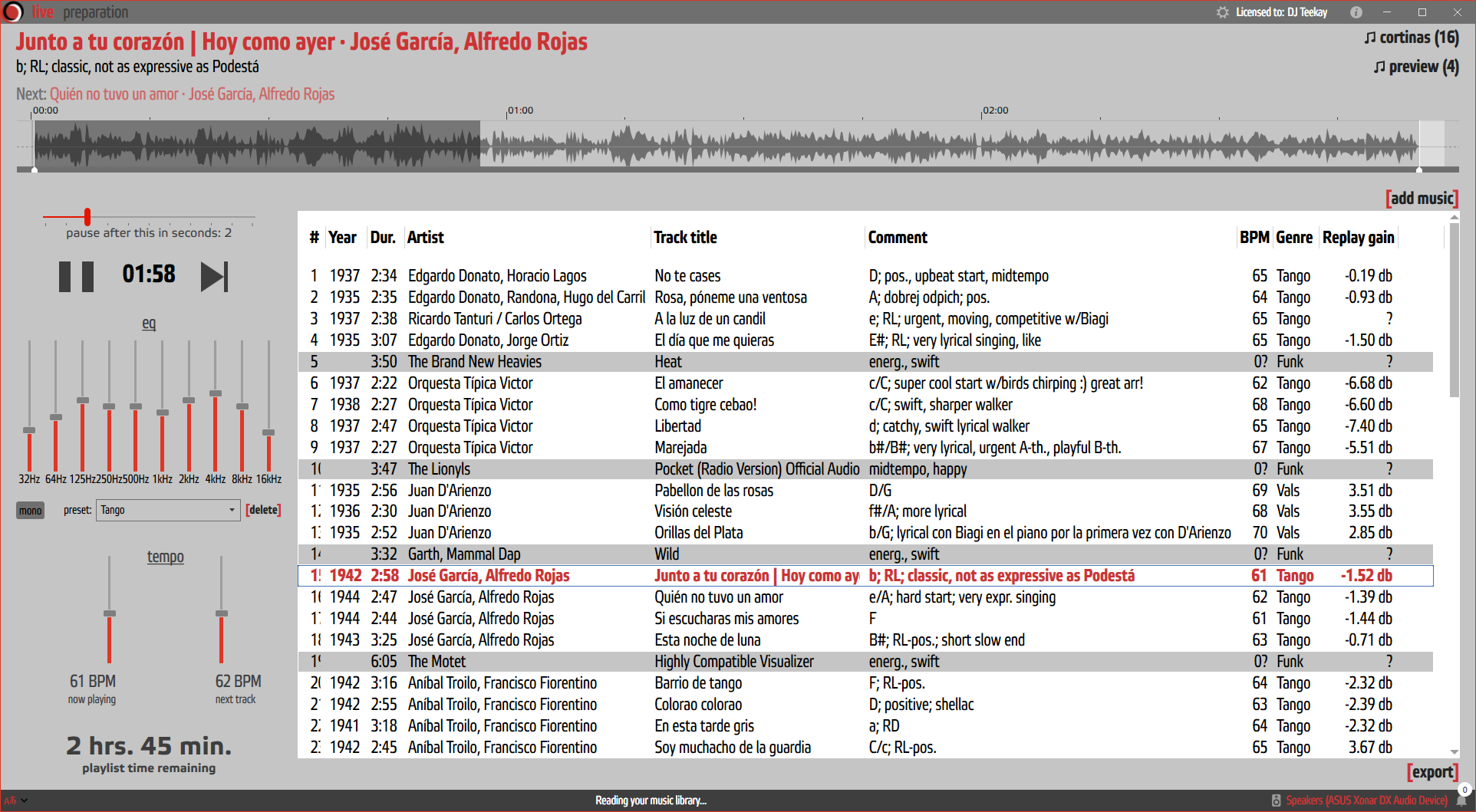 Why does it exist?
Then and now, most professional DJ apps are serving electronic music DJs (see Traktor and Mixxx). I've never felt comfortable using them for tango DJing and looked for something else. Something that would have a queue for the music I was going to play live for dancers and an area where I would prepare the music to come.
Importantly, I wanted features for steady, evenly spaced playback, I didn't want to be distracted by stuff I wasn't going to be using (like mixing tracks together), and I wanted safety from my own mistakes.
Not finding anything with that mindset, I decided to build instead.
I had a usable version up in a few months and used it exclusively until COVID hit. A few of my DJ pals used it, too, but that was the extent of publicity I reached, and I had, and still have, very limited commercial ambitions for it.
Nevertheless, I spent a few years reworking its fundamentals, and it's now back with many new features. Read about them here if interested.
The software is at the moment "beta quality" as the reworking touched every part of the app and there'll still be issues. I won't uncover all of them on my own, however, and that's where you come in! 😁
UPDATE: as of 2022, I consider the app stable for commercial use.
Feedback wanted
I would love to invite both new and experienced tango DJs to download the app and try it out.
The app will NOT mess with your music library, so your risks are limited. The only thing the app would implicitly save is your playlists. You might want to back them up first for extra peace of mind.
My commitment to the app is long-term, and so is my interest in learning how you use it and what features you'd like it to have. The best way to reach me is via e-mail.
The road ahead
I want Bewitched to be a great companion to tango DJs and will look into if and how it could support DJs of other social dances.
Its core features are "set in stone" and have been battle-tested on countless milongas. The primary focus is to help you play for dancers, and the secondary is to help you prepare your set.
It won't do unrelated things like streaming, for example, or try to do everything related to managing your music library - there are other apps for that.
My plans for future releases do not currently include anything substantive. I will increase support for additional metadata as I get feedback from other DJs. I will also consider any other feature requests, and if they align well with the core mission of Bewitched, I will add them to the app.
I set up a dedicated page where you can track the updates.
---
1) There's a single reason for the renaming, and it's this: there is also an app for Mac called Embrace, and while it's not doing quite the same things, the overlap is such that I decided to pre-empt any further confusion and go with a new name. The author of Embrace for Mac, Ricci Adams, has been much more active than me in the past, and I think he deserves the name.
What do you think? Sound off in the comments!
Hi, Nabil!

1) Yes, you can save any playlist - please note that playlists are saved as M3U files, and so the "name" will be the file name.

2) Yes, you can right-click the column headers in the playlist area and select "Appearances". That will give you a count of how many times a given track appears in your playlists. Additionally, you can right-click any individual track and see in which playlists it appears

3) No, I the app does not have this feature yet. I'll think about a second screen in the context of showing tanda info (or any arbitrary content, we'll see).
Hi Tomáš,
is there a way to pay for a license of Bewitched without a credit card?
Best regards,
Michael
Hi Michael, yes there is, the best way is to contact me via email and we'll figure it out :)
Read some more