And now for something completely different.
My friend Thomas has gifted me a CD with very unconventional tango covers made by a duo of harps, Das Harfenduo.
Over half of the tunes are Piazzolla covers, the rest is a selection of various beloved hits such as Malena, La cumparsita, or La yumba.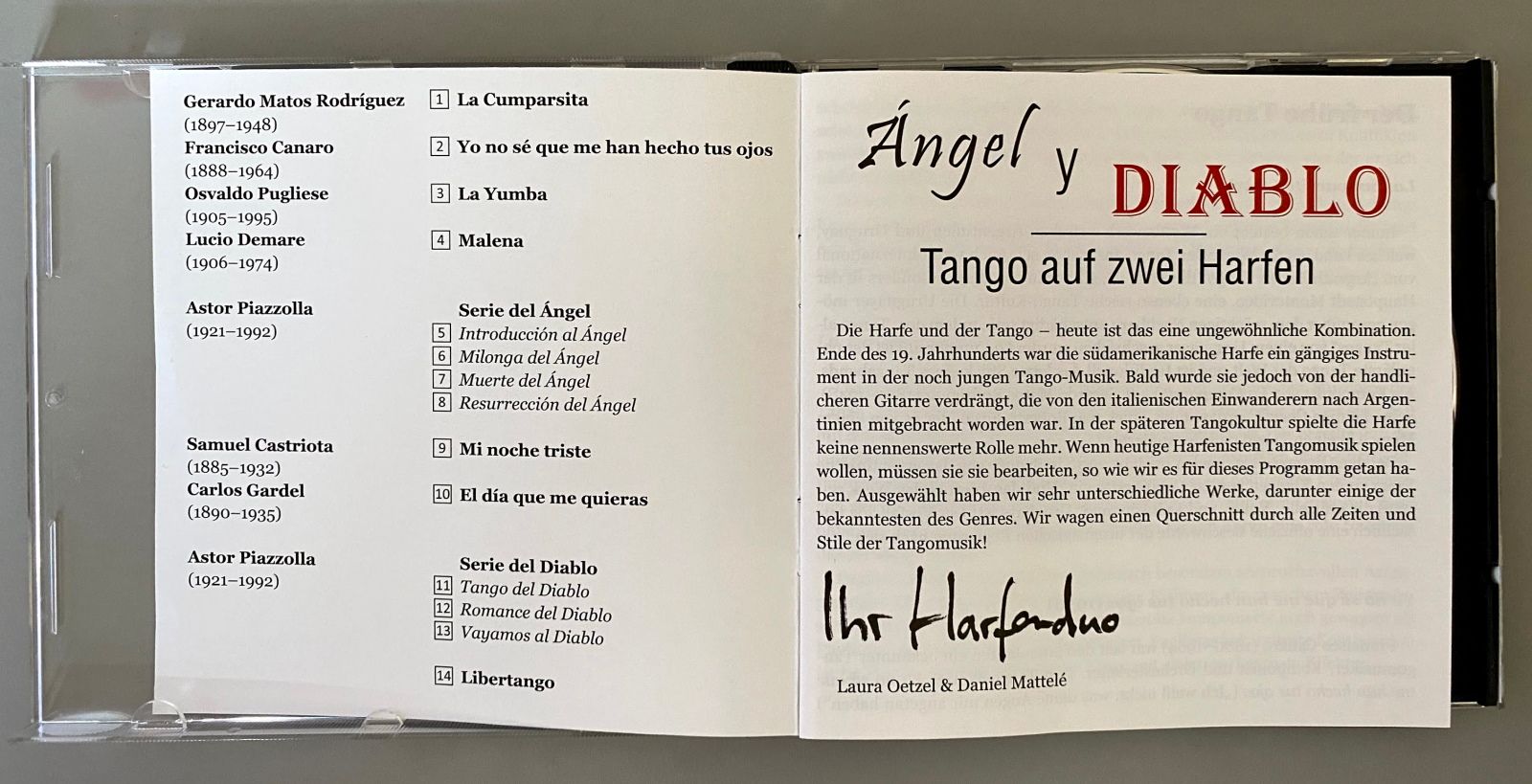 It's unlike anything you would normally expect to hear. The performance of familiar tango tunes by harps makes it an almost otherworldly experience.
The harp has been used by some orquestas típicas, e.g. by Fresedo, to add a special effect that I personally associate with a noble atmosphere, perhaps such as enjoyed by rich townsmen of Buenos Aires for whom Fresedo would perform.
Das Harfenduo is what you would get if the rest of Fresedo's band got stuck in a traffic jam and the harpists would have to cover for all of them.
Their technical mastery is undisputable, and they treat the beloved tango tunes with respect, extracting what's important into their arrangements.
This is most evident in their treatment of Malena, with its nostalgic lyricism that the duo has re-enacted with high fidelity.
The instrumentation is less favorable to tunes where you'd expect a more direct, aggresive sound, such as La yumba. One must dispose of all expectations in order to enjoy this interpretation, which is convincing in its own way, just very, very different.
The duo has dedicated more than half the space on the CD to their vision of Piazzolla concert pieces. Arguably that's where they can really show what's in them. What made Piazzolla famous was not his early típica but the concert music he made after renouncing the dancers.
I am wholly impressed with their Piazzolla re-interpretation. For I am not prompted to dance, I can sit in quiet and admire the complex web of melodies, the comings and goings of phrases, the thoughtful arrangement.
Obviously, this album isn't aimed at the dancing audience, and as a DJ I could only use one or two pieces for a special occassion (perhaps the Cumparsita?). It will find its fans among the general concert-going people who, perhaps, will catch the tango-virus from this unlikeliest of sources.
What do you think? Sound off in the comments!
Read some more