Tango is alive in Germany, and more importantly, great new tango records are being made there, too.
The album "Viento norte" by Sexteto Cristal is a gem. The band resides in Hamburg, and if I needed one more reason to visit the city, hearing them live would certainly fit!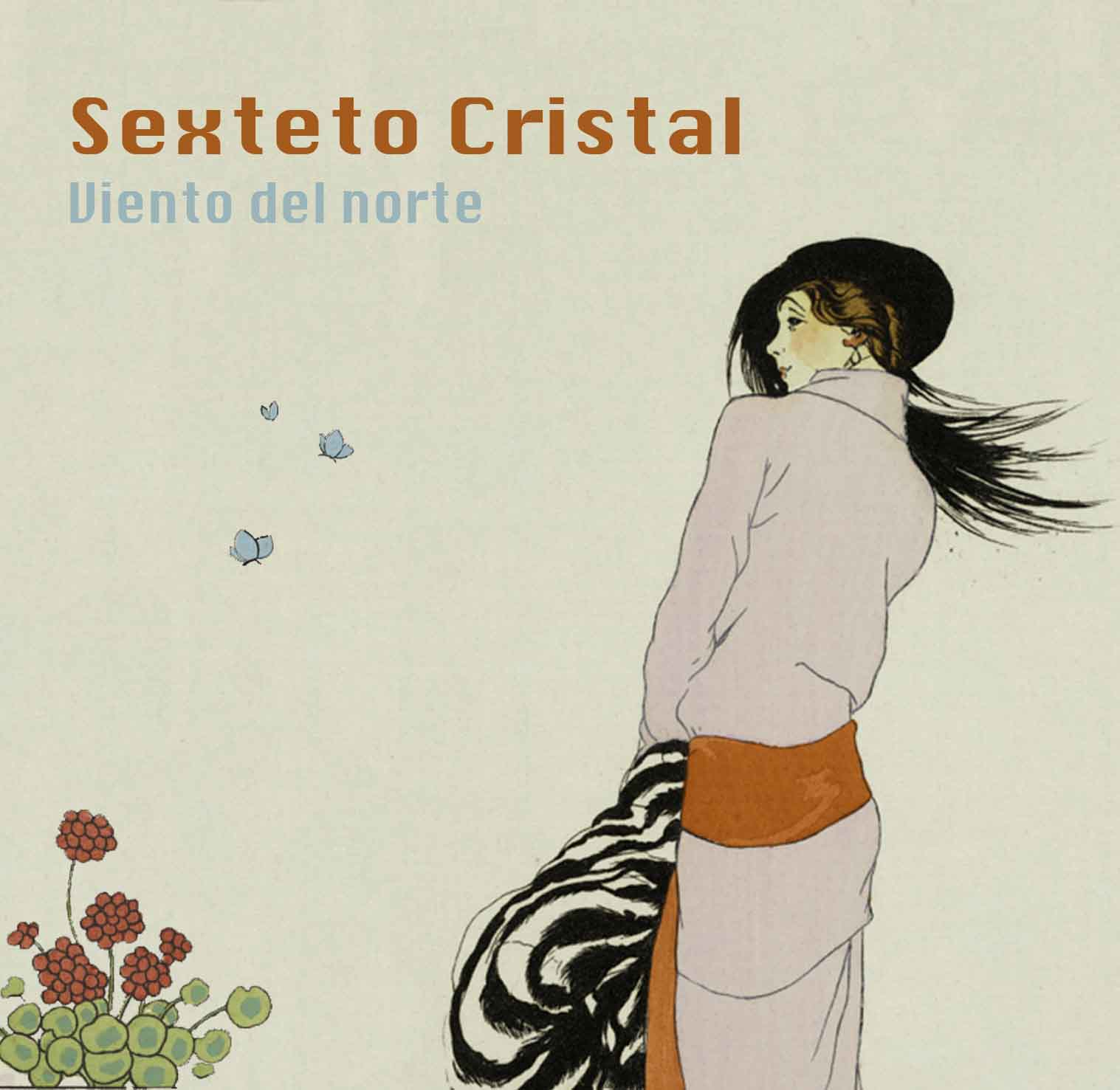 It contains two instrumentals; Guillermo Rozenthuler accompanies the band for the next eleven tunes.
The eponymous "Viento norte" opens up the album, and as far as I can tell, is quite close in spirit to the last interpretation known to me made by Orquesta Típica Victor in 1929. The beat is clear and regular, moving at the comfortable tempo of ~ 60 BPM, as is true for most of the tangos in the album.
It is also an excellent tanda opener. The opening bars kick you out of your chair and onto the dance floor.
The other instrumental, "El recodo", goes on slightly faster. Its beats are resolute, yet it radiates warmth, especially so in the contrasting theme. I find certain passages to demand more attention from the dancers, such as when the violin goes on a solo at around the 1.40" mark, or even in the closing bars where the bandoneon churns out many quick notes.
In my view, "El recodo" makes for a fine tanda closer. The structure is more complex and the ending seems to make a point of, "there you have it." Looking at my actual sets instead of speculating, however, I see that I placed it in all positions, and therefore it does depend, as always, on the point I'm trying to make at the given moment.
Two does not a tanda make, and looking at my past sets, I let Quinteto Ángel, Bandonegro, or Alex Krebs Tango Sextet join one or both of these instrumentals in a tanda.
There are five tangos sung by Guillermo Rozenthuler, and all of them are highly danceable delicacies.
"El adiós" starts off in the spirit of the opening song "Viento norte", in terms of tempo as well as resolute beats. Once the singer joins the party, the song builds an unmistakably lyrical flavor. Rozenthuler never dominates; he fuses with the band without having to lead it. In fact, he appears for only about 30 seconds in the second half.
"S.O.S. | Condena" kicks of in a staccato, accusatory fashion. The contrasting theme has legato phrasing and does not offer a relief; it seems to only explain why the main theme is so angry. Rozenthuler's role is again as an equal member of the orquesta.
Now, why I mention this? There are many orchestras entirely built around singers. We can debate how interesting that might be; I'll refrain from making a judgement in general and only emphasize that I enjoy how Rozenthuler blends with the sextet.
"Después del carnaval" picks up the tempo a bit, 66 BPM by my counting. The violin leading at the beginning stirs up the emotions considerably, and again the character is predominantly lyrical with clear beats suggesting a certain urgency.
"Caricias" and "Mentira", however, drop down to the slower walking beat again, and have a calm, meditative character. Both are lyrical masterpieces.
While we have competing interpretations from the Golden Age (e.g., Lomuto/Omar for Caricias, D'Agostino/Vargas for Mentira), I will claim that Sexteto Cristal surpasses them. They are musically superb, eminently danceable, and, obviously, there's no noise on the recording.
With respect to creating a consistent tanda, I've had some trouble with these five tunes. No matter which four I choose, their energy levels and direction are not entirely compatible. I tried alternating the first two with the last two for contrast, however I was not very happy with the result. The fault is all mine, obviously.
There are two milongas on the album and one foxtrot; one would wish for one less foxtrot to arrive at a three-milonga tanda! I know there are DJs who happily play foxtrot in lieu of a milonga, and I can only say I am not one of them.
The two milongas we have here, "Mi vieja linda" and "Flor de Montserrat" are gorgeous. The both have the signature milonga beat, both have a predominantly staccato character, and the tempo is just right for normal audience, clocking at approx. 100 BPM by my counting.
How true these two are to the milonga genre ideal cannot be overstated. The one existing interpretation of "Mi vieja linda" by Orquesta Emilio Pellejero from 1941 is likely to have inspired Sexteto Cristal to a great degree, and as a result we now have this great tune in a superb sound quality.
The only other "Flor de Montserrat" I have heard is that by Biagi, and while it starts promising, it cannot keep the tempo it originally proposes, gradually slowing down, which I deem to be a defect in a good milonga. The Sexteto's rendition does not suffer from this fault; it drives me relentlessly from the beginning to the end.
If only we'd gotten "Cantando se van las penas" instead of the foxtrot "Contando las estrellas"! Yet another milonga by Biagi where the great master proposed a rather fast tempo then let it slow down considerably! I am confident Sexteto Cristal would not let that happen.
Tanda-wise, one is reduced to compromises. I have added Tángalo's "De antaño" several times, and so it must have worked; however, here I would definitely prefer to have a one-orchestra tanda.
Lastly, we have three lovely valses that do form an excellent tanda: "Cuando florezcan los rosales", "Noches de invierno", and "Vals del recuerdo", all of them vocal. They follow one another with ease, with the tempo increasing almost imperceptibly, and their composition in this order makes sense also from the harmonic perspective (B-minor, C-minor alternating with A-minor, E-minor).
An extra credit goes to Sexteto Cristal for repeatedly choosing repertoire that does not have a well-known, canonical version. As far as I can tell, "Cuando florezcan los rosales" was last recorded in early 1930s by Canaros (Francisco and Juan). "Noches de invierno" went out of fashion in 1937 with the only version known to me by OTV. Lastly, I first made an incorrect guess that "Vals del recuerdo" was a new composition. Firpo recorded it in 1942, in fact, and then Miguel Villasboas again in 1975, but the latter version is clearly not meant for dancing - the tempo is excruciatingly slow. Here, we have a version that best showcases what this tune is supposed to sound like.
Sexteto Cristal is now my go-to orchestra whenever I want to play a contemporary tango tanda, and I can only wish they release many new albums in the future. While they are technically superb as musicians, they appear to also have the dancers on their minds, and they exhibit none of the superfluous virtuosity that plagues certain argentine bands of today.
This distinction is crucial. Musicians today have access to the best education available, and are able to achieve technical mastery that was simply unavailable to the stars of yesteryear. It's very easy for them to fall intro the virtuoso trap, and stop playing for dancers.
The Sexteto has avoided this trap. You can listen to them and be happy, and you can dance to them, and be happy and delighted. This is as good as it gets.
What do you think? Sound off in the comments!
Read some more