Oh my! I've lost hope I'd see another tango release until the end of this God-forsaken year, and here comes Romantica Milonguera to cheer me up!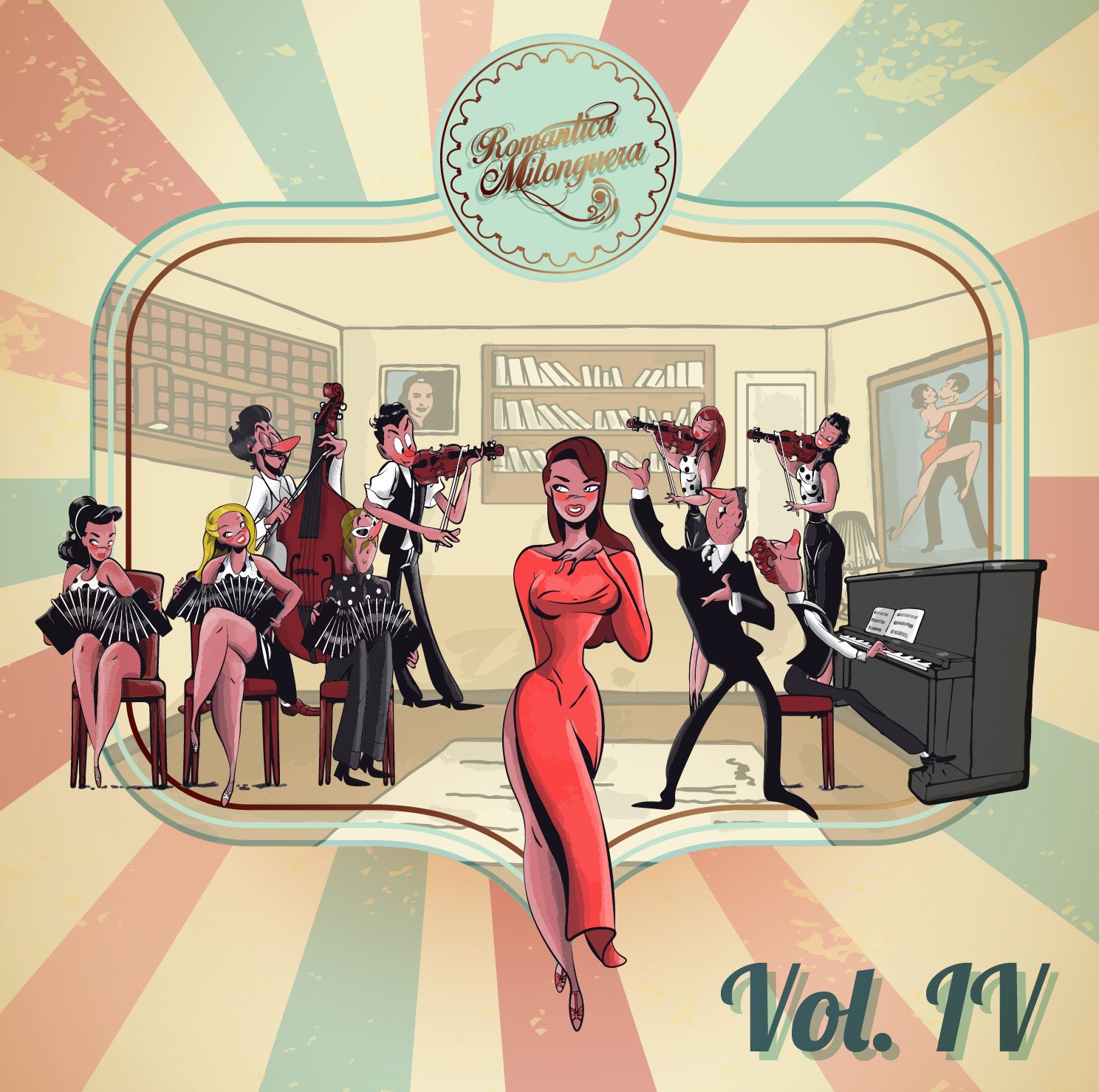 It would be good to know why "Volume IV" when it's their 9th release on Bandcamp? Friendly visitors' tips welcome.
The contents if what you would expect, not even COVID can bring down the spirits of Romantica. You get 10 super-charged tracks that are mostly cheerful, often kitschy in their delivery, swift and all very much at home on the dance floor.
Singers Roberto Minondi and Ximena Gimenez each get four tracks, the remaining two are instrumentals.
All the tempos are right, averaging 63 BPM, and the band plays no tricks on the dancers.
Half of the arrangements chosen for this release cover better-known hits: Quiero verte una vez más, Gime el viento, Nada, Tú, el cielo y tú, and Junto a tu corazón. I am usually ambivalent on this topic; on the one hand, it's refreshing to hear the established material with a new auditory perspective, on the other, the bands are usually fighting an uphill battle.
Romantica avoids the comparisons by producing each track in their own unified style. I have not yet decided, for myself, whether that's a unequivocal positive (such as in D'Arienzo being D'Arienzo) or not so much in that the arrangements would benefit from more variety.
Tú, el cielo y tú sounds to my ears as the pinnacle of the album, breaking the relentless drive with occasional mysterious moments.
Then there are four tracks that are not covered frequently: Tus labios me dirán, Fuimos, Los despojos, and Luces de mi ciudad. That, and the cover of a 1934 non-tango song Midnight, the stars and you.
*Tus labios me dirán *is a borderline case, as I have it firmly associated with Di Sarli and Durán's recording from 1945 and it's the only song from the album where the arrangement, for the lack of more precise words, didn't work for me. I felt that Romantical steamrolled over the material where it needed gentler treatment.
The rest are pleasant additions to my future DJ sets.  When I mix the old-timers with new bands on a milonga that is in most aspects traditional, I favor covers of less well-known songs over those that compete, bearing in mind that the audience is mostly traditionalist, with one or more canonical versions that everyone loves. All bets are off, obviously, if I produce the event myself and the evening is programmed to be progressive.
I've only listened to this album an hour ago, and so this is definitely not a proper review. Do yourself a favor and head over to Bandcamp and have a listen.
What do you think? Sound off in the comments!
Read some more